Welcome to the Ecstatica Wiki
Edit
Welcome to the Ecstatica Wiki, a Wiki dedicated to providing as much information as possible about the amazing yet forgotten Ecstatica series of games. If you know anything about these games or their creators, feel free to contribute!
The Games

The Creators

Other

Ecstatica In-Depth Articles

Ecstatica II In-Depth Articles
What is Ecstatica?
Edit
Ecstatica was a short-lived series of action adventure games released in the mid-90's and spanning only two titles, Ecstatica and Ecstatica II. Both games were created by British developer Andrew Spencer Studios and published by Psygnosis. What Ecstatica is most remembered for is its unique technology which rendered almost all graphics as ellipsoids instead of polygons. This results in a bizarre but memorable visual style which was originally widely praised for its much more organic feel than polygons allowed at the time. However, both games are also notable for some original ideas found in their game design and content such as a sadistic werewolf who has a habit of stalking and ambushing the player, large amounts of unique context-sensitive actions as well as comparably complex scripted sequences.
The word "ecstatica" itself means "a woman perceived to have a highly sensitive emotional state, or prone to quasi-mystical trances." It is also the name of a central character in the series.
This Wiki also covers Andrew Sepencer Studios' cancelled game Urban Decay which was not formally part of the Ecstatica series but was deeply related to it in numerous other ways, both technologically and in terms of gameplay.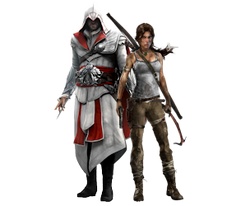 Action-Adventure Games
Go to these sites for info or for help with your own wiki!
ARK: Survival Evolved • Assassin's Creed • Bayonetta • The Binding of Isaac • Castlevania • Crackdown • Darksiders • Days Gone • Detroit: Become Human • Devil May Cry • Dragon's Crown • Fran Bow • God Eater • Grand Theft Auto • Gravity Rush • HITMAN • Horizon Zero Dawn • InFAMOUS • Just Cause • King's Quest • L.A. Noire • Last Day on Earth: Survival • The Last of Us • Legacy of Kain • Legend of Zelda • LEGO Dimensions • LEGO Games • LEGO Marvel and DC • Lightseekers • The Longest Journey • Mafia • Marvel's Spider-Man • Metal Gear • Monkey Island • Monster Hunter • Ninja Gaiden • No More Heroes • Ōkami • Prince of Persia • Red Dead • Senran Kagura • Sleeping Dogs • Splinter Cell • Subnautica • System Shock • Tomb Raider • Uncharted • Watch Dogs • Yakuza
Want your community included? See how!
See all of our Action-Adventure gaming wikis!